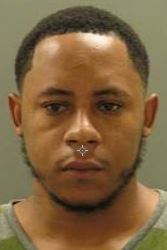 NEW CASTLE, DELAWARE (7/8/2015) New Castle County police arrested a 26-year-old Bear man in connection with a shooting in April near Newark, authorities said Tuesday.
Stedman Brown, of the 100 block of Auckland Drive in the Wellington Woods neighborhood, was arrested after a traffic stop in the parking lot of Community Plaza, off Route 273 west of New Castle, Officer First Class Tracey Duffy said.
A mounted patrol officer stopped his car after observing a suspended registration, Duffy said.
Brown first gave a false name, she said, but the officer later determined his real name and that Brown was wanted in the shooting in the Kimberton area.
He was charged with criminal impersonation, possession of a deadly weapon during commission of a felony, carrying a concealed deadly weapon, reckless endangering, assault in the second degree and numerous traffic violations, Duffy said.
Brown was being held at Young Correctional Institution in Wilmington in lieu of $61,000 cash bail.
Man shot in Carrington Way Apartments home invasion