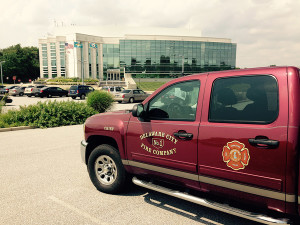 UPDATED STORY: Police file theft charges against Hockessin woman in bizarre truck theft, crash
MINQUADALE, DELAWARE (7/7/2015) A 43-year-old Hockessin woman was taken into custody after attempting to return a Delaware City Fire Company pickup truck that had been stolen from the New Castle County police headquarters parking lot and then involved in a hit-run accident, authorities said.
Cuve Harding, of the 1200 block of Old Lancaster Pike, was cited by state police in the accident at Lancaster Pike and Centerville Road about 11 a.m., said county Officer First Class Tracey Duffy, and faces pending charges in the theft of the vehicle.
After the crash was reported, police reviewed surveillance footage from headquarters and saw Harding exit the building after being released at 8:15 a.m., Duffy said, and then attempting to open doors to a number of vehicles in the parking lot.
Duffy said the video showed Harding fleeing in the fire company pickup, which had not been locked.
Harding was later involved in the accident and fled that scene, Duffy said, then was seen traveling north on U.S. 13 (North DuPont Highway) by a mounted county officer about 2:15 p.m.
The officer attempted to stop the truck, which Duffy said made a U-turn and entered the parking lot of police headquarters.
Harding was then taken into custody without incident,  Duffy said.