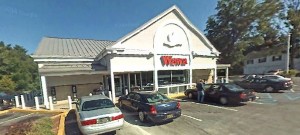 NEWARK, DELAWARE (5/26/2015) Two armed robbers made off with cash from a Wawa convenience store just outside Newark city limits early today, Delaware State Police said. It was the second robbery at the store this month.
Today's robbery happened about 1:25 a.m. at 274 E. Chestnut Hill Road – on the northeast corner of Routes 4 and 72.
The two male robbers, both armed with guns, demanded cash from two women working at the store, one 44 and the other 21 years old.
They handed over cash from the registers and safe and the robbers fled.
No injuries were reported.
The robbers were described as white, about 6 feet tall and with thin builds. They were wearing dark pants and dark blue T-shirts.
Police asked anyone with information to call 302-365-8566.
Wawa near Newark robbed at gunpoint
Newark officer, motorist injured in crash at Routes 4 and 72