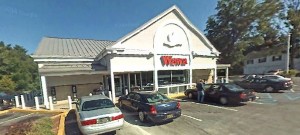 NEW STORY: Armed robbers hit Wawa store near Newark
NEWARK, DELAWARE (5/8/2015) Police are looking for two armed men who held up a Wawa convenience store near Newark.
The robbery happened about 2:20 a.m. at 274 E. Chestnut Hill Road, on the corner of Routes 4 and 72.
The two men with handguns confronted three employees and demanded money from the cash registers and safe. They fled with an undisclosed amount, Delaware State Police said.
No one was injured.
Both men were described as about 6 feet tall and 180-200 pounds. One was black, wearing blue jeans, black shirt and black shoes.
The other was wearing a grey or white shirt.
Anyone with information is asked to contact troopers at 302-365-8566.
Tips also may be submitted anonymously through Delaware Crime Stoppers, which offers rewards, at 800-847-3333 or www.tipsubmit.com.
4th robbery at Wawa near New Castle