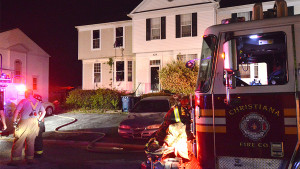 BEAR, DELAWARE (5/8/2015) A 61-year-old man pulled from his burning townhome by firefighters Thursday night died later at Christiana Hospital, authorities said.
The victim's name has not been released.
The fire broke out shortly before 10:30 p.m. in the 400 block of Feather Drive, in the Raven Glen at Wellington community off U.S. 40.
Smoke was pouring from the townhome when Christiana firefighters arrived, said Michael Chionchio, assistant state fire marshal.
Firefighters rushed in and pulled the man from the second floor. He was taken by ambulance to the hospital, where he died a short time later, Chionchio said.
He said deputy fire marshals are investigating to determine how the fire started.
Damage was estimated at $50,000.
Chionchio said there were no other injuries.
Wilmington Manor, Delaware City, Good Will and Aetna Hose, Hook & Ladder fire companies responded to the blaze as well as New Castle County paramedics.
Man charged in Elsmere firebombing
Bancroft Mills fire cleanup closing pedestrian bridge to Alapocas Run State Park