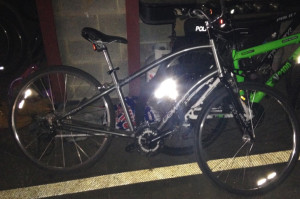 WILMINGTON, DELAWARE (5/8/2015)  Wilmington police are trying to identify a bicycle rider who was critically injured this afternoon when he fell off his bicycle.
Police said the white man, about 50-60 years old, lost control of the grey Townie mountain bike about 1:45 p.m. in the 1600 block of Lovering Ave. and struck his head as he fell. He was eastbound at the time.
He was not wearing a helmet.
He was treated at the scene by New Castle County paramedics and taken by ambulance to Christiana Hospital.
Police said the man is about 5-feet-8 and was wearing a lime green shirt.
Anyone who recognizes the bicycle or is concerned about a friend or family member is asked to call the police non-emergency number, 302-654-5151.