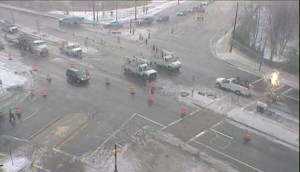 DELAWARE (3/2/2015) A storm expected to hit Delaware at mid-afternoon Tuesday likely will drop less than an inch of snow before changing to sleet and freezing rain, and then all rain as temperatures rise in the evening.
The National Weather Service issued a winter weather advisory for New Castle County from 3 p.m. Tuesday until 1 a.m. Wednesday.
Temperatures climbing to around 40 degrees this afternoon melted snow that will freeze tonight as the temperature drops to 20 degrees or lower.
With ice still causing problems on roadways, government offices and all 19 state school districts delayed openings this morning. Some of the school districts later decided to close for the day.
Numerous power outages were reported but by evening nearly all customers had service restored.
Southbound Route 141 remained closed until about 7:30 a.m. today, as well as Route 100 (Montchanin Road) in the Greenville area where a DelDOT plow truck struck wires and pulled down poles and a traffic light on Sunday. The left lanes in both directions on Route 141 remained closed at the intersection until crews repaired the traffic light.
Delmarva Power reported power to about 50 customers in the area has been restored, but more than 400 customers remained without service at 7:30 a.m. About 90 were out north of Felton, and the rest were on the Eastern Shore of Maryland.
The Delaware Electric Cooperative restored service to all but one member this evening. More than 1,200 had lost service Sunday night due to fallen trees and tree limbs.
State officials decided to delay the opening of state government offices in New Castle and Kent counties until 10 a.m.
New Castle County and Wilmington officials also delayed opening of government offices until 10 a.m.
A fishing boat that sank at its dock on Cedar Creek at Slaughter Beach this morning was being re-floated at sunset. Accumulated ice in the boat may have contributed to the sinking, according to those on the scene.
Most upstate schools announced two-hour delayed openings on Sunday night, and this morning downstate districts announced classes would start two hours late.
Delmar, Caesar Rodney,  Cape Henlopen, Capital, Indian River, Lake Forest, Laurel, Polytech, Seaford, Sussex Tech and Woodbridge districts announced two-hour delays this morning. Charter and private schools also delayed opening.
Appoquinimink, Brandywine, Christina, Colonial, New Castle County Vo-Tech and Red Clay school districts announced they would remain closed for the day. Some private and charter schools also closed for the day.
Delaware State University and the University of Delaware delayed classes until 10 a.m.
The Food Bank of Delaware delayed opening its Newark and Milford locations at 10 a.m.