Share your photos on Delaware Free News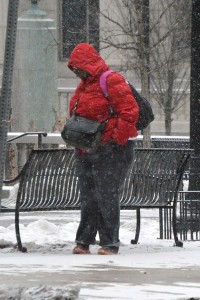 DELAWARE (3/1/2015) An icy winter storm has brought power outages and crashes on the roadways across Delaware today.
This afternoon, the raised bed on a DelDOT snow plow truck snagged low-hanging electrical wires on Route 100 near Route 141, bringing down several poles on either side of Route 100 and taking out the traffic light at the intersection, DelDOT spokesman Jim Westhoff said.
The driver was not injured.
Southbound Route 141 is closed at the DuPont Experimental Station, and is likely to remain closed through Monday morning's rush hour, Westhoff said, as the poles and lines are repaired. Route 100 also is closed in the area.
Message boards in the area are directing motorists to detour routes.
Delmarva Power reported about 50 customers without service in the area, with the outage beginning about 1:30 p.m.
Appoquinimink, Brandywine, Christina, Colonial, New Castle County Vo-tech, Red Clay and Smyrna school districts announced classes would start two hours late on Monday due to icy conditions. Many private and charter schools also announced late openings.
DelDOT says it has mobilized all its crews but motorists should stay off the roads if possible.
Icy spots exist even on main highways such as Interstate 95 and Route 1, DelDOT said.
At 7:15 p.m., the southbound lanes of Route 1 were closed by an accident on the Indian River Inlet Bridge, DelDOT reported.
Earlier accidents were reported on I-95 near Route 896 and at the toll booth, and on southbound Route 1 near Route 72 as well as other areas.
At 7:30 p.m., the Delaware Electric Cooperative reported 1,200 members had lost power in Kent and Sussex counties. At least some of these were attributed to a tree taking down wires pr a tree limb falling on wires. Many of those who lost power were out for at an hour or two. By 9:15 p.m.,  all but about 30 had service restored and crews were working to restore the rest. But at 10:45 p.m., the co-op reported more than 1,100 members out in southern Kent County.
Delmarva also reported about 2,400 customers out on the Eastern Shore of Maryland.
The speed limit on Interstate 495 was lowered to 45 mph, and the limit on the Delaware Memorial Bridge was cut to 35 mph.
The National Weather Service issued a winter storm warning  until 4 a.m. Monday for New Castle County and nearby areas in Maryland, Pennsylvania and New Jersey.
Similar warnings were issued this morning for Kent and Sussex counties.
In Milford, the snow had changed to rain by 12:30 p.m., and DelDOT crews were working to clear the slush off U.S. 113.
More than 2 inches of snow and sleet may accumulate upstate before the storm tapers off Monday morning.
About a half an inch of snow was measured in all three counties by early afternoon. with some spots upstate later reporting an inch.
Skies will gradually clear Monday with the temperature climbing to around 40 degrees, with northwest wind of 16 to 20 mph.
The temperature will dip into the upper teens Monday night.
There's a chance for snow, sleet and rain Tuesday afternoon.