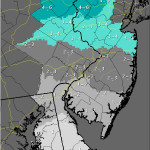 DELAWARE (2/13/2015) Forecasters are warning of a dangerous winter storm that will put a bitter chill on the Valentine's evening.
In addition to an inch or two of snow, northwest sustained winds of 25-35 mph will gust to 60 mph Saturday night and Sunday, the National Weather Service says.
The winds are likely to knock down trees and tree limbs, cause minor structural damage to homes and could cause power outages lasting more than 24 hours, the service said. Restrictions are likely on bridges.
A high wind watch is in effect for Delaware from Saturday evening through Sunday afternoon.
Snow accumulations of 1 to 2 inches are predicted for northern Delaware with an inch or less in the southern part of the state.
The winds and bitter cold temperatures will produce wind chills of zero to minus 10 on Sunday morning.
This morning, the wind chill may dip to 10 to 15 degrees below zero before 9 a.m. as northwest wind gusts to 35 mph. Bundle up and wear a hat and gloves to protect against frostbite and hypothermia.
Skies will be sunny today with a high about 20 degrees.
Thomas Edison Charter School officials announced the school would be closed today due to the cold weather.
 Code Purple sites across the state have opened to provide warm shelter for the homeless during the frigid weather.