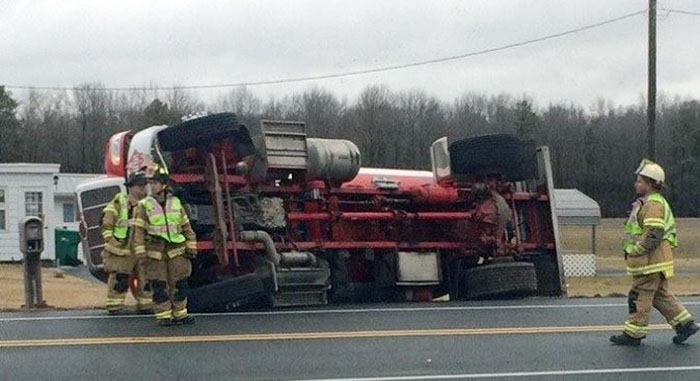 GREENWOOD, DELAWARE (2/3/2015) State police cited the driver of a propane truck for inattentive driving after the vehicle overturned Monday on Route 16 east of Greenwood, sending him to a hospital.
Ben E. Fulton, 62, of Georgetown, was operating a 2011 Peterbilt Pep-Up propane truck westbound on Beach Highway (Route 16) just west of Hunters Cove Road, police said.
As the truck entered a slight curve, both right side wheels went off the pavement and onto the soft shoulder and Fulton over-corrected to the left, causing the truck to flip onto the passenger's side, police said.
Fulton, who was wearing a seat belt, was taken by ambulance to Nanticoke Memorial Hospital in Seaford, where he was treated and released.
Route 16 was closed in the area about 3 hours as hazmat teams from DelDOT and Pep-Up contained a diesel fuel spill. Police said there were no reports of propane leaking.
Route 16 reopened after propane truck overturns