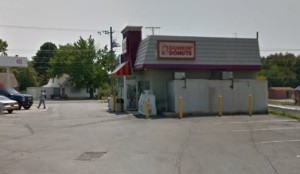 NEW CASTLE, DELAWARE (2/3/2015) A vehicle stolen when the owner left it running outside a Dunkin' Donuts store was recovered later in the day by New Castle's police chief.
The theft happened in the donut shop's parking lot on Basin Road (Route 141) about 7:40 a.m. Monday, Senior Lt. Adam Brams said.
The owner, a 30-year-old man from Salem, N.J., left the 1995 Ford Taurus unlocked with the keys in it while he went inside the store, Brams said.
As he came out, he saw the car being driven off on Frenchtown Road toward Airport Plaza.
Later, Police Chief Dan Tjaden spotted the car near a Rent-a-Center store in the Penn Mart Shopping Center.
Police are reviewing video surveillance of the area as the theft investigation continues, Brams said.