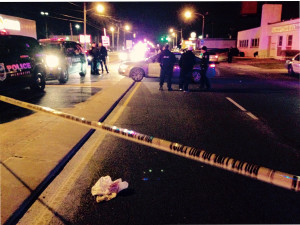 WILMINGTON, DELAWARE (2/2/2015) City police this morning released the name of a 29-year-old man shot to death in a car Sunday night.
The victim was identified as Hykeeam Harris, of Wilmington.
He was declared dead at the scene by paramedics after the body was discovered about 8:40 p.m. at 27th Street and Northeast Boulevard, in an Audi sitting across the left southbound lane with the front tires resting on the concrete median.
The scene was in front of Northeast Church of Christ and the New Garden Restaurant.
Officers had initially responded to gunshot reports at 26th and Northeast Boulevard.
Anyone with information on the shooting is asked to call  Detective Michael Gifford of the Criminal Investigation Division Homicide Unit at 302-576-3640.
Sunday night's death was the city's seventh homicide this year. 2014 was a record year for Wilmington homicides, with 28 reported.
Fatal shooting reported in Wilmington
Stolen SUV wrecks after police chase in Wilmington
26-year-old man shot in Wilmington dies
Homicide sets record for Wilmington