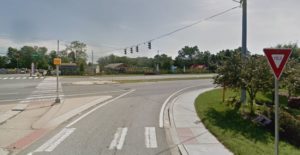 BEAR, DELAWARE (1/25/2018) An 85-year-old Bear woman has died of injuries suffered in a crash in Bear last week, the Delaware State Police said today.
The crash was reported at 11:31 a.m. Jan. 16, in the westbound lanes of U.S. 40 (Pulaski Highway) at Glasgow Drive.
Police identified the woman killed as Angela J. Moore.
She was driving a 2003 Nissan Sentra and turned from Glasgow Drive onto westbound U.S. 40, police said, proceeding into the left lane and into the path of a westbound 2016 Ford Mustang.
The Ford then rear-ended the Nissan, forcing it into the grass median, where it stopped. The Ford stopped in the U.S. 40 westbound lanes.
Moore was taken by ambulance to Christiana Hospital, where she died Tuesday.
Police said she had been wearing a seat belt.
Moore issued a citation the day of the crash for failing to yield the right of way.
The driver of the Ford, a 22-year-old New Castle man, was taken by ambulance to Christana Hospital with injuries police described as not life-threatening.
Police asked anyone with information to call Cpl. J. Breen at 302-365-8486.