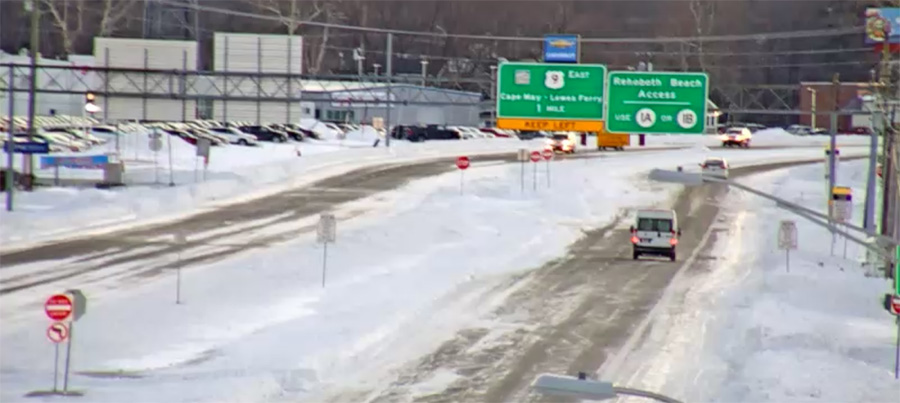 DELAWARE (1/5/2018) As severe cold weather continues following a major snowstorm, Delaware officials announced that Sussex County state offices will remain closed through 4:30 p.m. today.
Offices in Kent and New Castle counties will open at 10 a.m., later than normal.
The offices in all three counties had been closed on Thursday.
The closures apply to employees classified as "non-essential" who live or work in the affected counties. The "essential" employees are to report as scheduled.
Gov. John Carney declared a state of emergency and "Level 2 Driving Restriction" for Sussex County, but the ban was lifted at noon.
He also authorized the Delaware National Guard to assist state and local officials with storm recovery efforts.
Delaware Department of Transportation said it is continuing to clear and treat primary roads before tackling secondary roads.
The Level 2 Driving Restriction means that no one may operate a motor vehicle on roadways except for persons designated as "essential personnel."
Under Delaware law, the term "essential personnel" means employees or personnel who are necessary (1) to maintain the core functions of government, and (2) to maintain the health and safety of the people of Delaware. The following persons are specifically designated as "essential personnel" under Delaware law:
Operators of snow removal equipment (public and private);
Persons providing public utility services.
Persons providing healthcare services.
Persons providing food and fuel deliveries.
Sussex County and the city of Rehoboth Beach also closed government offices today.
Newark city offices are opening at 10:30 a.m., two hours later than normal.
DART canceled all bus service in Sussex County today with the exception of dialysis paratransit trips.
The Cape May Lewes Ferry canceled all trips today due to expected high winds and ice in Delaware Bay.
Latest forecasts