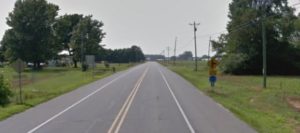 LAUREL, DELAWARE (11/17/2017) A 37-year-old man was killed and two other people injured in a head-on crash east of Laurel, the Delaware State Police said.
The crash happened about 8 p.m. Thursday on Laurel Road (Route 24) near the Jestice Farm Road intersection.
The man killed, later identified as James M. Holloway of Laurel, was driving a 2000 Dodge Dakota pickup truck eastbound and collided with a westbound 2013 Infiniti JX35 SUV.
"As the two vehicles converged, the Dakota for unknown reasons left its lane of travel, entering into the westbound lane directly into the path of the Infiniti. In an attempt to avoid a collision, the operator of the Infiniti swerved to the right, exiting the roadway into a field," Master Cpl. Melissa Jaffe said.
"The Dakota traveled through the westbound lane and shoulder, striking the front center of the Infiniti in the field with its front center. After impact, the Dakota was forced into a clockwise rotation, coming to rest partially on the shoulder. The Infiniti came to rest in the same area as the impact, in the field."
She said the Holloway wasn't wearing a seat belt. He was taken by ambulance to Nanticoke Memorial Hospital in Seaford, where he was pronounced dead.
The driver of the Infiniti, who was wearing a seat belt, was taken to Nanticoke, treated for minor injuries and released.
A 32-year-old woman who was a passenger in the Infiniti was admitted to Nanticoke with injuries Jaffe said were not life-threatening.
Laurel Road was closed about three hours as police investigated and the wreckage was cleared.
No charges have been filed.
Pedestrian struck, killed on U.S. 40 near New Castle