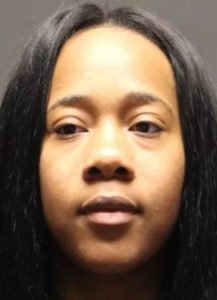 GLASGOW, DELAWARE (11/2/2017) A 23-year-old woman was charged with assaulting another woman in a road rage incident in Glasgow, the Delaware State Police said today.
The incident happened about 9 a.m. Tuesday on U.S. 40 (Pulaski Highway) at Perch Creek Drive.
Police said a 62-year-old Middleotown woman was waiting to make a turn into the Kohls Department Store parking lot when the driver of a Dodge Charger behind her car became impatient and began blowing the horn.
The Middletown woman subsequently pulled into the parking lot with the driver of the other car, identified later by police as Dashyra L. Thomas, 23, of Newark, following.
When both vehicles stopped, police said, Thomas began yelling at the other woman. Both left their vehicles and began arguing.
Thomas then punched the woman multiple times in the face, police said, injuring her left eye and nose.
Bystanders intervened and separated the two, police said, and Thomas fled.
Troopers later located Thomas and her car at her home. She tried to flee back into the home but was handcuffed, police said.
She was charged with second-degree assault, resisting arrest and disorderly conduct, as well as a count of endangering the welfare of a child since her 4-year-old son was in the car at the time of the assault, police said.
She was released on $4,000 unsecured bond.