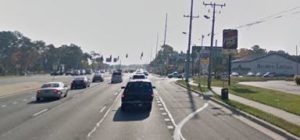 REHOBOTH BEACH, DELAWARE (10/26/2017) A pedestrian was struck and killed on Route 1 (Coastal Highway) near Rehoboth Beach on Wednesday evening, Delaware State Police said.
The fatal crash happened about 7:49 p.m. near Old Landing Road and closed the southbound lanes of the highway about three hours as police investigated.
The victim was identified as 54-year-old Irving T. Cannon of Rehoboth Beach.
Police said the crash involved a southbound 2015 Mercedes-Benz, driven by a 66-year-old Millville man, in the center lane.
The car struck Cannon, who was attempting to cross the highway, with the left front bumper. Cannon was pronounced dead at the scene.
The car stopped on the shoulder. The driver and a passenger were wearing seat belts and not injured, police said.
Police said Cannon was wearing dark clothing, wasn't carrying a light and wasn't in a crosswalk.
"Alcohol is being considered as a factor on his behalf," Master Cpl. Melissa Jaffe said.
Police release names of 2 bicyclists struck, killed on Route 1 in Dewey Beach