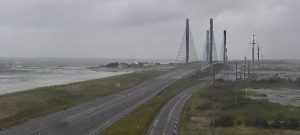 DEWEY BEACH, DELAWARE (9/19/2017) Seawater breaching a dune forced the closure of Route 1 south of Dewey Beach for several hours this morning, the Delaware Department of Transportation said.
The breach near Conquest Road closed the highway in both directions between Dewey and Bethany Beach, including the Indian River Inlet Bridge.
Traffic was detoured along a lengthy detour via Route 26, U.S. 113 and Route 24.
DelDOT announced the closure at 9:21 a.m., saying the road would remain closed until water receded to a safe level. The reopening was announced at 12:17 p.m.
Just after 10 a.m., DelDOT announced that River Road was closed in the Oak Orchard area, between Oak Orchard Road and Layton Davis Road.
The National Weather Service issued a coastal flood warning for Delaware as Hurricane Jose passes by 270 miles out in the Atlantic Ocean. The warning is in effect until 1 a.m. Wednesday, with moderate flooding predicted in Delaware at tonight's high tide.
Waves breaking on the beach of 8-10 feet are predicted.
A tropical storm warning was issued for coastal waters along Delaware, with seas of 10-15 feet and wind gusts to 40 mph predicted.