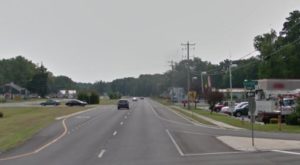 SELBYVILLE, DELAWARE (9/16/2017) A man and woman from Newark were seriously injured in a crash involving a motorcycle and an SUV on U.S. 113 in Selbyville on Friday, the Delaware State Police said.
The crash was reported at 1:05 p.m. in front of the Goose Creek convenience store at 9 S. DuPont Blvd. (U.S. 113).
Police said Norma J. Parks, 81, of Bishopville, Maryland, was driving a 2016 Ford Expedition SUV and pulled out of the parking lot across the path of a southbound Harley Davidson motorcycle that was in the left lane.
The motorcycle, driven by a 44-year-old Newark man, struck the left front of the SUV. The man and a 58-year-old Newark woman riding with him on the bike were both ejected.
"They then tumbled several times before coming to rest in the grass median," Master Cpl. Jeffrey Hale said.
Parks brought the SUV to a stop.
Both of the injured were treated at the scene by Sussex County paramedics and flown by state police and LifeNet helicopters to Christiana Hospital in Stanton.
Parks, who police said was wearing a seat belt, was not injured.
Police said both on the bike were believed to be wearing helmets.
The southbound lanes were closed and the northbound lanes restricted about three hours as police investigated and the wreckage was cleared.
Harrington woman killed in dump truck crash