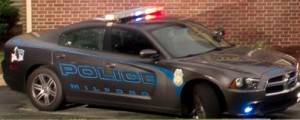 MILFORD, DELAWARE (9/18/2017) A suspect has been arrested in an attempted robbery in which the victim was cut with a knife, Milford police said this morning.
The crime was reported about 9:30 p.m. Thursday in the area of Franklin and Marshall streets.
The victim was approached by a man who cut him and attempted to remove property from his pockets but failed and fled.
The victim was taken by ambulance to Bayhealth Milford Memorial Hospital for treatment.
On Sunday, the victim notified police he had seen the man who cut him at the Walmart store.
Police arrived and arrested Jorge L. Romero, 37, of Milford.
Sgt. Robert Masten said officers found drug paraphernalia on Romero and items taken from the store without paying,
He was arrested and charged with first-degree attempted robbery, second-degree assault, wearing a disguise during commission of a felony, possession of a deadly weapon during commission of a felony, possession of drug paraphernalia, criminal impersonation and shoplifting. He was being held at Sussex Correctional Institution near Georgetown in lieu of $69,500 secured bail.