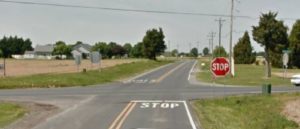 FELTON, DELAWARE (9/16/2017) A 62-year-old Harrington woman was killed Friday when her car was struck by a dump truck and pushed into a pickup east of Felton, the Delaware State Police said this morning.
The crash happened about 2:50 p.m. at the intersection of Canterbury Road (Route 15) and Carpenter Bridge Road (Route 35).
The woman killed was identified as Michele Handy. Police said she was driving a 2008 Kia Spectra northbound on Canterbury when the car was struck on the left side by an eastbound 1986 International dump truck that failed to stop at the stop sign on Carpenter Bridge Road.
"Handy's vehicle became entangled under the dump truck and was pushed in an easterly direction and into the front of a 2011 Dodge Ram, which was stopped on westbound Carpenter Bridge Road," Master Cpl. Jeffrey Hale said. "The Kia and the Dodge were both forced off of the north edge of Carpenter Bridge Road and into a small ditch where all three vehicles came to rest."
Handy was pronounced dead at the scene. Hale said she had been wearing a seat belt.
The driver of the dump truck, Jerome Parker, 50, of Milton, and the driver of the Dodge pickup were not injured. Hale said both had been wearing seat belts.
The intersection was closed about four hours as police investigated and the wreckage was cleared.
Police identify Newark man killed in I-95 crash