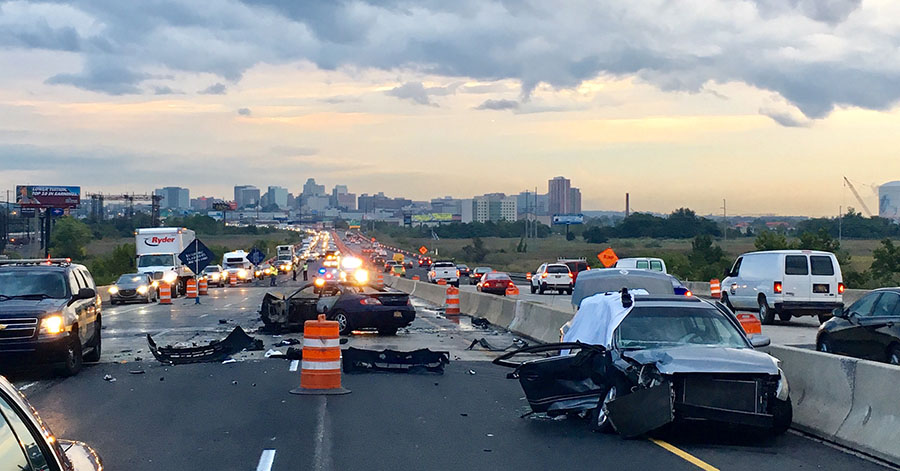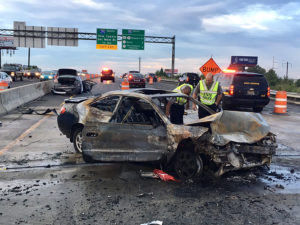 WILMINGTON, DELAWARE (9/14/2017) One man was killed and another injured in a two-vehicle crash this morning on Interstate 95, the Delaware State Police said.
The collision happened about 5:30 a.m. in the southbound lanes near Frawley Stadium.
Police released this account:
"A 44-year-old Newark man was operating a 2008 Nissan Altima and was traveling in a southbound direction on I-95, approximately .5 miles south of Wilmington. For an unknown reason, the operator of the Altima lost control of his vehicle and veered to the right and then to the left.
"The front of the Altima then struck a concrete barrier before rotating in a counter-clockwise direction. It then came to rest in the roadway facing a northbound direction.
"Shortly thereafter, the Nissan was struck by a 2003 Toyota Camry, which was traveling on I-95 southbound in the left-hand lane, and which was being operated by a 54-year-old Wilmington man. After the impact the Toyota caught fire, however, the operator was able to exit the vehicle before it became completely engulfed in flames."
The driver of the Nissan was pronounced dead at the scene. Police later identified him as Taheed S. Williams.
The driver of the Toyota was treated at the scene by New Castle County paramedics, then taken by ambulance to Christiana Hospital in Stanton. Police said his injuries were not life-threatening.
The southbound lanes were closed six hours as police investigated and the wreckage was cleared. Traffic at the Pennsylvania line was diverted onto Interstate 495 around Wilmington.
Traffic already on I-95 through the city was diverted into Wilmington at the Fourth Street exit.
Pedestrian struck on Route 4 in Stanton