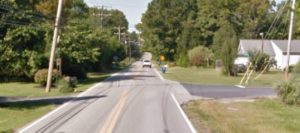 KIRKWOOD, DELAWARE (9/11/2017) A 36-year-old man struck at the Howell School Road and Woods Road intersection this morning was taken to a hospital in serious condition, authorities said.
The pedestrian incident happened about 6:10 a.m., said Paramedic First Class Yvonne T. Russell of New Castle County Emergency Medical Services.
The man suffered injuries to his arm and leg, she said.
He was treated by paramedics at the scene and taken by Christiana Fire Company ambulance to Christiana Hospital in Stanton.
The incident is under investigation by Delaware State Police.