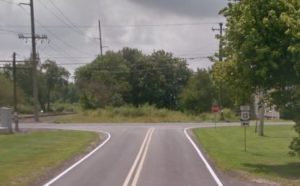 FARMINGTON, DELAWARE (9/10/2017) A 46-year-old Milford man was killed early today and another person injured in a single-vehicle crash in Farmington, the Delaware State Police said.
The crash happened about 1:15 a.m.
Police said Harry D. Ulhorn was driving a 1987 Chevrolet El Camino pickup south on Farmington Road.
At Main Street he drove through the stop sign without braking and went off the south side of the road, striking a large tree with the center of the front bumper, police said.
Ulhorn was pronounced dead at the scene. Police said he wasn't wearing a seat belt.
A passenger, who was wearing a seat belt, was flown to Christiana Hospital in Stanton by a state police helicopter. Police said he was in critical condition.
Police said speed may have been a factor in the crash.
The intersection was closed about 2.5 hours as police investigated.
Collision Reconstruction Unit is investigating a single vehicle fatal crash that claimed the life of a Milford man early this morning.
Driver killed in fiery wrong-way crash on Route 1