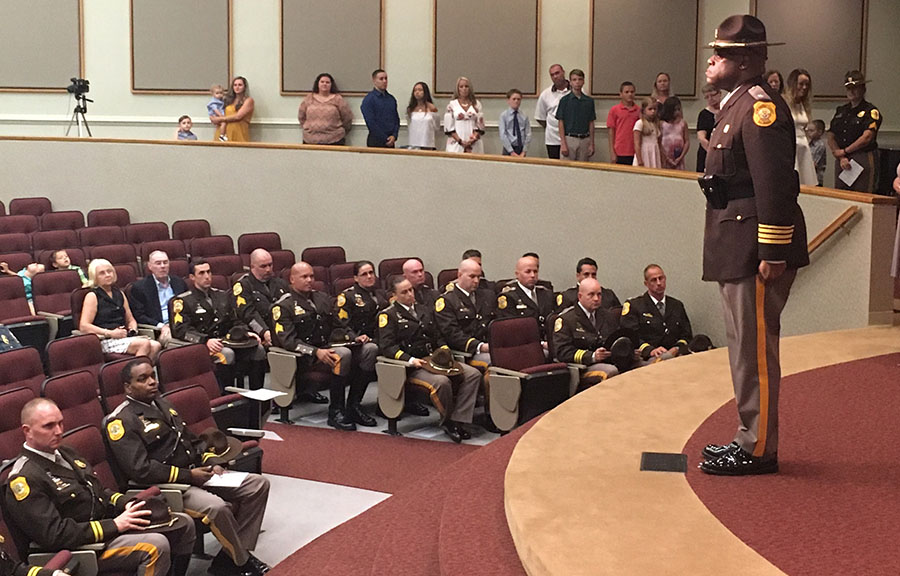 NEWARK, DELAWARE (8/22/2017) New Castle County police recognized recently promoted officers at a ceremony Monday.
The officers recognized were; Lt. Colonel Quinton L. Watson, Major Robert A. McLucas, Captain Joseph S. Bloch, Captain Diane R. Smith, Lieutenant Brian N. Faulkner, Lieutenant Allen G. Herring, Lieutenant Gustavo A. Zeissig, Sergeant James D. Allison, IV, Sergeant Brian M. Cote, Sergeant Peter J. Stewart, III, Sergeant Kevin P. Donohue, Jr., Sergeant Hector L. Garcia, Jr., Sergeant Jennifer L. Bunora, Sergeant John-Paul D. Piser.
"In today's world of policing it is imperative that supervision is available to oversee the day to day interactions of our officers," said Col. Vaughn Bond Jr., chief of police. "Quality supervision ensure that mishaps are few and quality service is being provided to the community."
The ceremony was held at the University Of Delaware's John M. Clayton Hall.