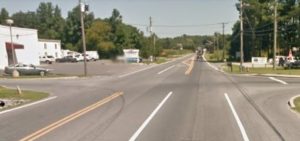 GEORGETOWN, DELAWARE (8/7/2017) A 68-year-old man died this morning at Christiana Hospital in Stanton, three days after his motorcycle collided with a DART bus turning in front of him south of Georgetown, the Delaware State Police said.
The crash happened about 7:30 p.m. Friday as the bus made a left turn from southbound South Bedford Street to enter the DART bus yard just north of U.S. 113 (DuPont Boulevard).
Police said the driver of the bus, 51-year-old Selena Cannon of Bridgeville, pulled into the path of a northbound 2000 BMW motorcycle.
The driver of the bike, James L. Barron of Georgetown, was ejected and struck the windshield of the bus.
Barron, who was wearing a helmet at the time of the crash, was flown by state police helicopter to Christiana Hospital in Stanton, where he died of his injuries.
Cannon was not injured, police said. She was the only one aboard the bus and was wearing a seat belt.
Police said she was cited her for failure to yield on a left-hand turn and additional charges are pending outcome of their investigation.