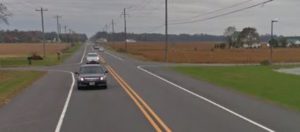 GEORGETOWN, DELAWARE (8/5/2017) Two people were killed and another seriously injured in a near head-on collision west of Georgetown on Friday, the Delaware State Police said.
The crash happened about 1:10 p.m. on U.S. 9 (County Seat Highway) just east of Tyndall Road.
A 57-year-old Seaford man, later identified as George C. Hassett, was driving a 2000 Oldsmobile Bravada westbound.
"For an unknown reason, the Oldsmobile crossed the double yellow line and entered the eastbound lane of U.S. 9 directly into the path of a 1994 Chrysler LeBaron, which was being operated by a 76-year-old Georgetown woman," Master Cpl. Jeffery Hale said. "The operator of the LeBaron swerved her vehicle slightly to the right in an attempt to avoid the collision, however, the vehicles collided almost head-on in the eastbound lane. Both vehicles came to rest in the roadway."
The Georgetown woman killed was later identified as Katherine E. Chick.
Both drivers, who were wearing seat belts, were declared dead at the scene.
A 45-year-old woman who was a passenger in the Oldsmobile, who also was wearing a seat belt, was taken by ambulance to Nanticoke Memorial Hospital in Seaford with serious injuries.
The road was closed about four hours as police investigated and the wreckage was cleared.