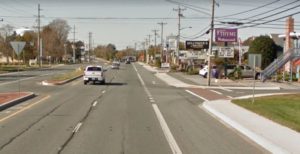 REHOBOTH BEACH, DELAWARE (7/30/2017) A moped rider was in critical condition after colliding with an SUV on Route 1 (Coastal Highway) near Rehoboth Beach, the Delaware State Police said.
The crash was reported at 10:56 a.m. Saturday in the northbound lanes at Robinsons Drive.
Traffic was congested at the time but had stopped to allow a southbound 2014 Jeep Grand Cherokee to make a left turn into Robinsons Drive, police said.
The Jeep was struck on the passenger side by a northbound 2012 Honda Ruckus moped that was on the shoulder.
The driver of the moped, 27-year-old Kenneth J. Seltzer Jr. of Rehoboth Beach, was ejected onto the pavement. Police said he wasn't wearing a helmet.
The Jeep came to a stop in the parking lot of the Just in Thyme Restaurant.
Seltzer was taken by ambulance to Beebe Healthcare in Lewes, then flown to Christiana Hospital in Stanton in critical condition, police said.
The driver of the Jeep, 45-year-old Laura L. Mason of Rehoboth, was not injured. Police said she was wearing a seat belt.
Police are still investigating and no charges have been filed.
"Alcohol or drugs do not appear to be contributing factors in this case," Master Cpl. Gary Fournier said.
Northbound Route 1 was limited to one lane for about three hours as police investigated the crash.
Pedestrian struck, killed on U.S. 13 in Dover
Valero Shore Stop robbed on Route 1
McDonald's Restaurant robbed on Concord Pike