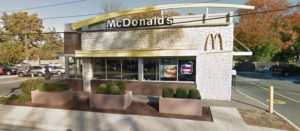 BRANDYWINE HUNDRED, DELAWARE (7/29/2017) A robber escaped with cash from the register at a McDonald's Restaurant on Concord Pike (U.S. 202), the Delaware State Police said this morning.
The robbery was reported at 10:30 p.m. at 2507 Concord Pike.
The robber approached a female employee behind the sales counter and handed her a note demanding cash.
She complied and the robber fled east on Prospect Drive.
No weapon was shown and no injuries were reported.
The robber was described as white, 18-20 years old, 5-feet-10 to 5-feet-11 and 130-145 pounds. He had blue eyes and was wearing a black hooded sweatshirt, dark sweat pants and a mask.
Anyone with information is asked to call police at 302-365-8566.
23-year-old man shot to death in Wilmington
Applebee's employee shot in Newark robbery
5 arrested in Meadowood burglaries