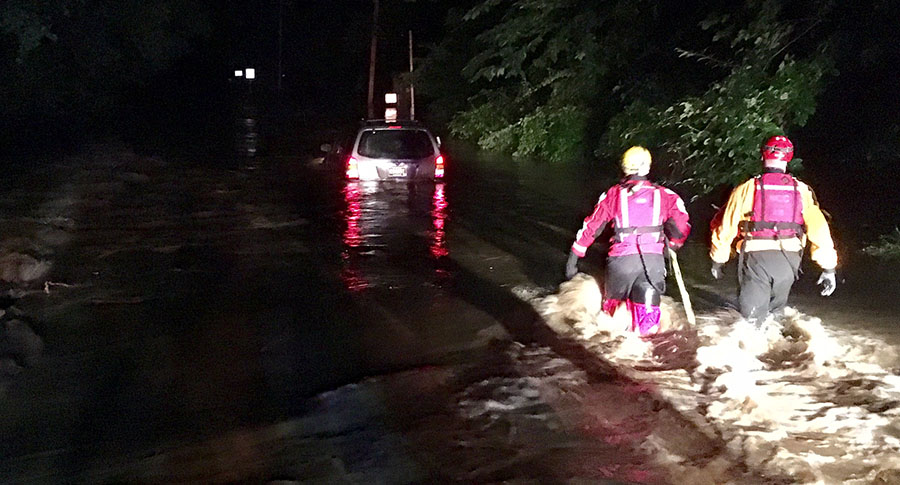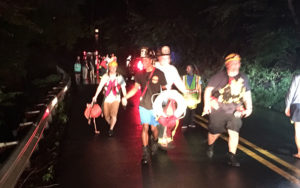 DELAWARE (7/24/2017) A flash flood warning was issued for northern New Castle County until 9 a.m. today in the wake of storms that dumped as much as 7.5 inches of rain on the area, stranded motorists and left thousands of electric customers without power.
The National Weather Service issued the warning at 4:32 a.m., saying some streams may crest after sunrise. The warning area includes nearby parts of Chester and Delaware counties in Pennsylvania.
Delmarva Power reported at 6:40 a.m. that more than 600 electric customers were without service in New Castle County, and more than 7,000 on the Eastern Shore of Maryland.
Late Sunday night, three people were rescued from an SUV stranded in floodwaters on Barley Mill Road near Hoopes Reservoir, according to reports from the scene.
Other swiftwater rescues were reported on Faulkland Road, Kennett Pike and in Chadds Ford, Pennsylvania.
In New Castle, resident Bill McMichael reported on Facebook that lightning struck the chimney of the Library Annex near his home, toppling parts of it.
Flooding was reported in numerous areas, including closing Gov. Printz Boulevard between Lea Boulevard and Edgemoor Road overnight, but DelDOT reported it was open shortly before daybreak.
About 7 p.m. Sunday, a vehicle was stranded in high water at Pennsylvania Avenue and Union Street in Wilmington.
Flooding also closed Barley Mill Road (Route 141) south of Kennett Pike (Route 52), Thompson Bridge Road at Guyencourt, and Creek Road between Pyles Ford and Way roads.
The weather service reported flooding of the Red Clay Creek at 10:40 p.m. at Stanton, with a 9.5 foot rise over 3.5 hours. At Wooddale, the creek had a 4-foot rise in 70 minutes, cresting about 3.5 feet above flood stage before receding.
The Christina River rose 4 feet in 45 minutes, the service said.
The Wooddale covered bridge was closed on Foxhill Lane due to high water.
At 4 a.m. today, the weather service said 7.44 inches of rain fell at Winterthur over the past 24 hours, with most of it after 5 p.m. Sunday.
A possible tornado damaged homes on Kent Island along the Maryland Eastern Shore.