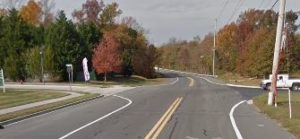 DOVER, DELAWARE (7/24/2017) A 23-year-0ld Dover man faces DUI and vehicular homicide charges after a fatal head-on crash in Dover early Sunday, city police said.
The crash happened just before 3 a.m. on McKee Road (Route 15) near Seskinore Court.
The man killed was identified as Derik Pecorini, 62, of Dover.
Police said Pecorini was driving a 2002 Honda Accord northbound, and Marcus Thomas was driving a 2006 Nissan Altima southbound in the northbound lane when the collision occurred.
"Thomas had minor injuries and was found to be under the influence of alcohol at the time of the collision," Master Cpl. Mark Hoffman said. He also was charged with other traffic offenses.