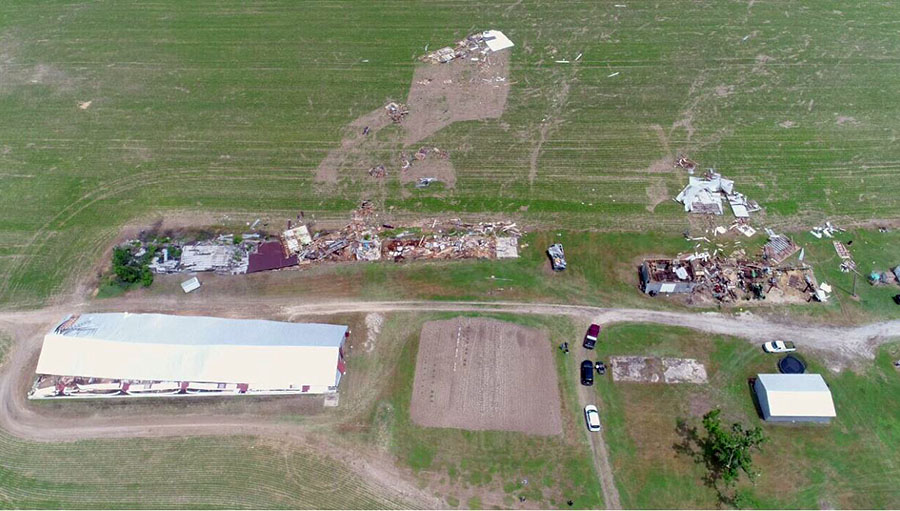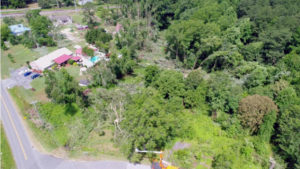 GREENWOOD, DELAWARE (6/20/2017) The National Weather Service has confirmed that a tornado struck the Greenwood area, causing damage but no injuries on Monday evening.
Tornadic damage was embedded in larger straight-line winds, the service said. The tornado was classified as an EF0, the smallest size.
Storm damage near Ellendale was the result of straight-line winds estimated to be 75 to 85 mph, the service said.
A team of meteorologists from the National Weather Service office in Mount Holly, New Jersey, along with the Delaware Emergency Management Agency and Sussex County Emergency Operations conducted a site assessment this morning.
A storage building at the Delaware Electric Cooperative site on U.S. 13 south of Greenwood sustained some damage.
The weather service issued this statement:
"A path of straight-line winds started in a wooded area near the intersection of Adams Road and 583A, which is behind the Delaware Electric Co-op facility. Several trees were snapped and uprooted, then the south end of a warehouse at the Delaware Electric Co-op was pushed in with two large garage doors blown out. A section of
the roof was also significantly damaged. Security camera footage showed very strong winds moving through the Delaware Electric Co-op, however there was no clear evidence of a tornado. This narrow but intense downburst continued east-northeast and caused areas of tree damage. The straight-line winds were estimated to be
between 75-80 mph.
The service said the tornado touched down between the Nanticoke River and the intersection
of Sugar Hill Road and St. Johnstown Road, and tracked northeastward for about 0.6 miles before lifting. It had a top speed of 85 mph and a path 200 yards wide.
"There was significant damage to a farm, with a couple of small barns destroyed with a lot of debris lofted and blown far across an adjacent field. Several trees were snapped or blown over along with damage to a few nearby power poles and wires," the weather service said. "A large unoccupied chicken coop, about 200 feet in length, was lifted and
moved several feet off its foundation with some metal roof panels on the north end twisted in a southerly direction."
Across the street from the farm on Sugar Hill Road, a couple sections of a large pivot irrigation system were lifted and tipped onto their side. Each section of the irrigation system weighs about 8800 pounds.
"As the storm moved east-northeast to the Lincoln and Ellendale areas, some sporadic areas of straight-line wind damage occurred mostly to large trees. Some of the trees were snapped toward the top, while areas between the farm and Ellendale had trees uprooted or snapped," the weather service said.
The Delaware Emergency Management Agency said earlier that most of the impact near Sugar Hill Road affected farm buildings but one home had damage to a porch.
DEMA used a drone to give investigators an overhead view of the damage.
The service also confirmed an EF0 tornado struck at 2:36 p.m. Monday near Shartlesville, Pennsylvania, with speed of 80 mph. The tornado had a width of 50 yards for a distance of 2.1 miles. No injuries were reported.
The tornado hit near the Mountain Springs Campground on the southern slope of Blue Mountain. Several large hardwood trees were uprooted and snapped.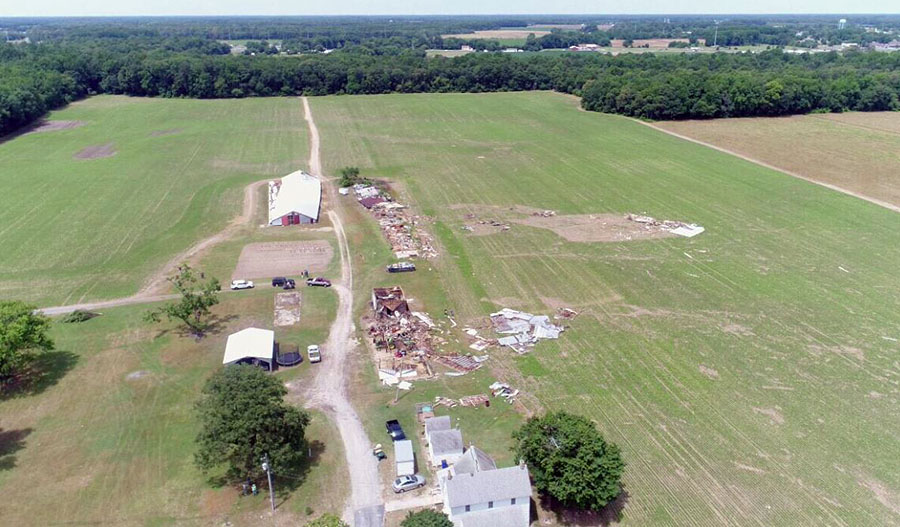 Security video from Delaware Electric Cooperative as winds hit south of Greenwood: