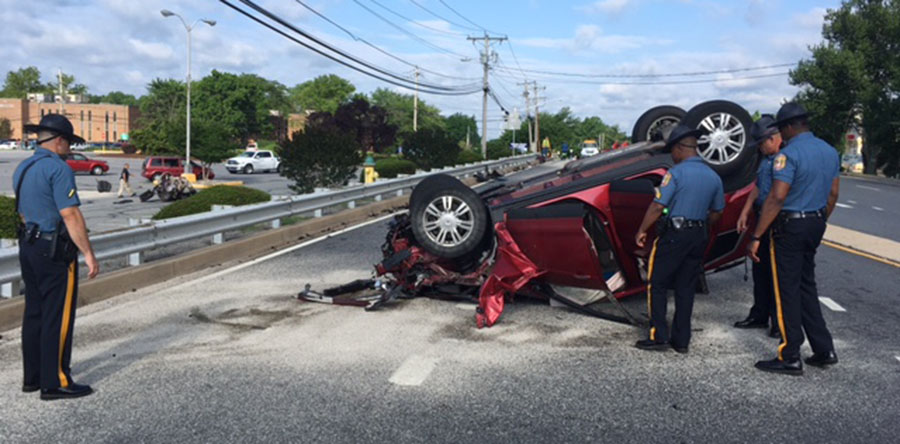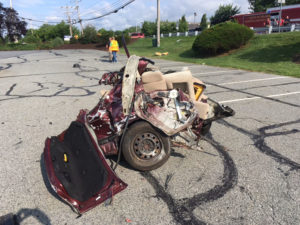 CHRISTIANA, DELAWARE (6/19/2017) Four people were taken to a hospital this morning after a crash on Chapman Road that overturned one vehicle and split another into two pieces, Delaware State Police said.
The crash happened about 7:50 a.m. at an entrance to the University Plaza shopping center.
Police said the driver of an eastbound 2010 Cadillac SRX, Fredia L. Walmsley, 34, of Wilmington, was in the right lane when a westbound 2004 Hyundai Sonata was attempting a left turn into the shopping center.
The front of the Cadillac collided with the right side of the Sonata, driven by Jonathan L. Favors, 34, of New Castle.
The collision caused the rear of the Sonata to be ripped off the vehicle and roll over as it entered the plaza's parking lot, with the front half remaining in the entrance roadway to the shopping center. The Cadillac continued forward, then hit a guard rail and bounced back into the roadway, rolling over one and a half times before landing on its roof, police said.
Walmsley was taken by ambulance to Christiana Hospital in Stanton with injuries that police said were not life-threatening. Walmsley was cited by police for unreasonable speed.
Both passengers in the Cadillac, a 13-year-old and a 2-year-old, were taken to Christiana for evaluation but cleared with no injuries, police said.
Favors was taken by ambulance to Christiana with injuries police said were not life-threatening. He was cited by police for failure to yield the right of way.
Police said all involved were properly restrained in their vehicles.
Christiana and Belevedere fire companies responded.
The eastbound lanes were closed about 1.5 hours as police investigated and the wreckage was cleared.
Driver faces DUI, homicide charges after fatal crash on U.S. 40 in Bear