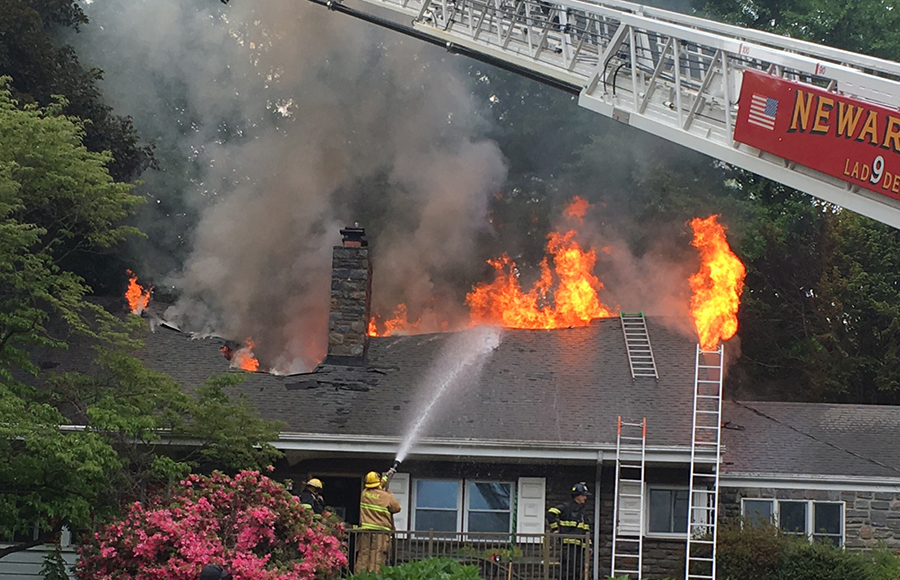 NORTH STAR, DELAWARE (5/24/2017) Fire swept through a single-family home in North Star this afternoon, destroying the building, according to reports from the scene.
The fire at 109 Neptune Drive was reported about 5 p.m.
An elderly woman in the home was evaluated for a medical emergency but declined transport to a hospital, said Cpl. David J. McKinney Jr. of New Castle County paramedics.
Seven people escaped from the home. No other injuries were reported.
Flames were shooting through the roof when Hockessin firefighters arrived, said Michael Chionchio, assistant state fire marshal.
Several other fire companies were called in to assist, including Aetna, Hose, Hook & Ladder, Mill Creek, Belvedere, Elsmere, Minquas, Cranston Heights, West Grove and Avondale.
Chionchio said the fire was caused by faulty electrical wiring and was ruled accidental by the Delaware state Fire Marshal's Office.
Damage was estimated at $300,000.
Chionchio said three adults and four children displaced by the fire were being assisted by the American Red Cross.