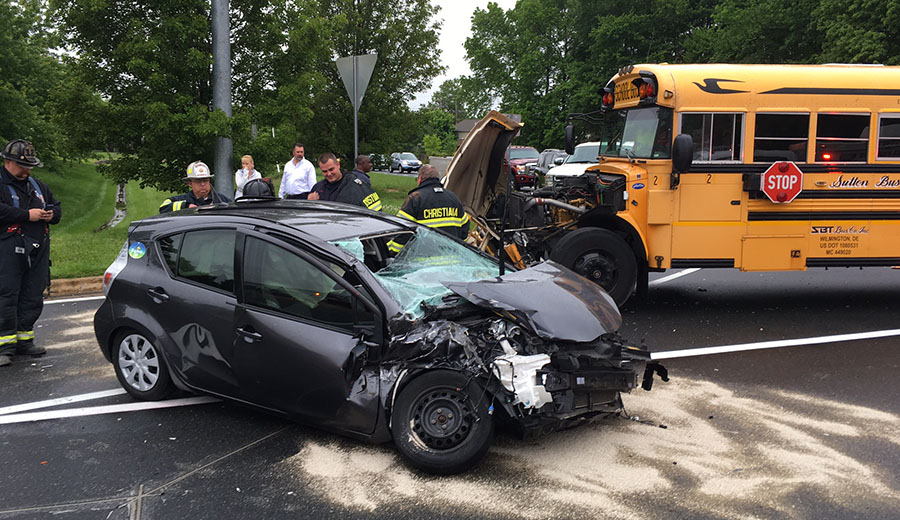 OGLETOWN, DELAWARE (5/22/2017) Four people were injured this morning in the crash of a school bus and passenger car, Delaware State Police said.
The crash happened about 8:13 a.m. at Harmony Road and Ruthar Drive.
About 30 students were on the bus carrying them to Las Americas Aspira Academy at Ruthar Drive and Red Mill Road.
Police said two children on the bus, the bus driver and the driver of the car suffered injuries and were taken by ambulance to local hospitals. Their injuries are not believed to be life-threatening.
Janae S. Higgins, 22, of Newark, was driving a 2013 Toyota Prius and was attempting to make a left turn from eastbound Ruthar Drive onto northbound Harmony Road, police said.
As Higgins began the turn, she drove directly into the path of a westbound 2007 Blue Bird school bus, which was being driven by a 24-year-old Bear man whose name wasn't released.
The left front side of the bus struck the front center of the Prius. Both vehicles came to rest in the intersection.
A 6-year-old girl and a 9-year-old girl who were passengers on the bus were taken by ambulance to Nemours/A.I. DuPont Hospital for Children in Rockland.
Both drivers were taken by ambulance to Christiana Hospital in Stanton.
Police described all of the injuries as not life-threatening.
Higgins was cited by troopers with failure to yield to oncoming traffic.