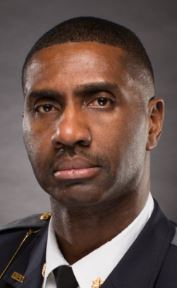 DOVER, DELAWARE (5/5/2017) The city of Dover has selected a new police chief.
Deputy Chief Marvin C. Mailey will replace Chief Paul Bernat, who announced his retirement in December.
Mailey was selected from 34 applicants, later narrowed to six finalists who were interviewed by a City Council committee.
"I am pleased that we have come to the end of the process that we followed in good faith and were able to agree that Deputy Chief Marvin Mailey will make an outstanding chief and continue to lead Dover in the right direction. I look forward to swearing him in as Dover's 14th Police Chief." Mayor Robin R. Christiansen said Thursday.
Mailey hails came to Delaware in 1989 from New York and began working as a correctional officer.He has been with the Dover Police Department for almost 24 years.
"I am honored that Mayor Robin R. Christiansen, the Dover City Council and the hiring committee have faith in me. I know we have a lot of work to do, but I am ready to take on this challenge," Mailey said.