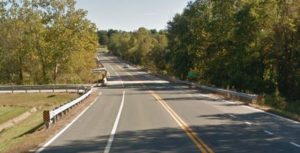 ELKTON, MARYLAND (4/24/2017) Two people were killed Sunday night in a fiery collision five miles west of the Delaware state line, Maryland State Police said.
The crash happened about 11:05 p.m. at Telegraph Road (Route 273) and Little Elk Creek Road and involved a 2007 Dodge Charger and a 1997 Chevrolet Blazer.
Both the car and SUV were engulfed in flames when state troopers arrived.
"Witnesses stated that the Dodge Charger was traveling westbound at a high rate of speed passing vehicles by crossing the center line into eastbound traffic. The Chevrolet Blazer was traveling in the eastbound lane when it was struck head on by the Dodge Charger," police said in a news release this morning. "Both vehicles were solely occupied by the drivers."
They were both pronounced dead at the scene. Their names are being withheld by police pending notification of next of kin.
Police asked any witnesses to call 410-996-7800.
Pedestrian struck on U.S. 40 in serious condition