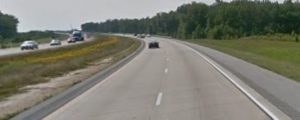 TOWNSEND, DELAWARE (4/14/2017) A 34-year-old Smyrna man was seriously injured in an SUV rollover crash on Route 1 near Townsend, authorities said.
The two-vehicle crash happened about 7:05 p.m. Thursday between the New Discovery Road emergency access road and Pine Tree Road overpass.
Delaware State Police said Thomas Baker Jr. was driving a 2004 Chevrolet Trailblazer southbound in the left lane and was attempting to enter the right lane when his SUV struck the left rear of a 2014 Hyundai Sonata.
Baker's SUV veered left into the median, where it overturned several times before coming to rest on its right side in the left lane of northbound Route 1.
Baker, who was the only occupant, was trapped in the SUV about 20 minutes. He was extricated by firefighters and treated at the scene by New Castle County paramedics for a head injury, said paramedics Cpl. David J. McKinney Jr.
He was then flown by state police helicopter to Christiana Hospital in Stanton.
Baker had been wearing a seat belt, police Master Cpl. Jeffery R. Hale said.
Police cited Baker for inattentive driving as well as licence and registration violations.
No one else was injured.
The highway was closed about an hour in both directions as police investigated and the wreckage was cleared.
Townsend and Odessa fire companies responded.