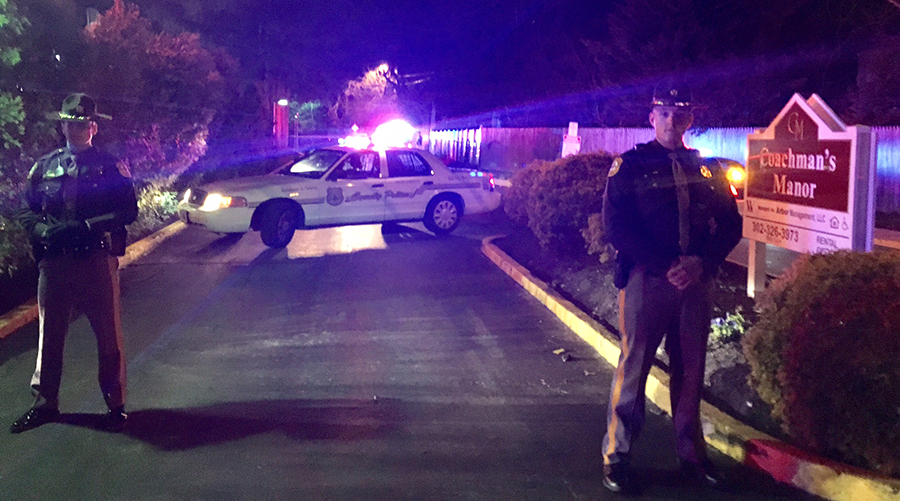 NEW CASTLE, DELAWARE (4/11/2017) New Castle County police say a suspect fatally wounded by an officer last week was driving a vehicle toward the officer.
The shooting happened about 7:45 p.m. Wednesday at the Coachman's Manor apartments near New Castle.
"Patrol officers responded to a third-floor apartment in the 100 block of Carriage Way to check for a suspect, identified as Leroy Brown, who was reportedly injured in an officer-involved shooting with Philadelphia Police Department," Cpl. Tracey Duffy said in a statement released Monday.
"When they arrived, officers observed blood on the stolen Dodge Avenger and in front of the door to the third-floor apartment where police were sent. Police attempted to contact Leroy Brown in the apartment by knocking on the door.
"During that time, an officer outside of the building observed Leroy Brown jump from the third-floor apartment window and flee on foot. The officer gave chase and attempted to stop Leroy Brown.
"Leroy Brown fled to the parked Dodge Avenger and entered it through the front-passenger's door, leaving the door open. The officer pursued Leroy Brown to the passenger's side of the Dodge Avenger.
"Leroy Brown was able to put the Dodge Avenger in reverse and accelerate at a high rate of speed, pinning the officer between the vehicle's body and the open front passenger's door.
"The Dodge Avenger struck an unoccupied fully-marked police vehicle, parked behind the Dodge Avenger, and ejected the officer into the side of that police vehicle. Leroy Brown then drove the Dodge Avenger forward, striking another vehicle parked in front of the Dodge Avenger.
"Leroy Brown then reversed the vehicle again and drove it towards the officer, at which time the officer discharged their departmentally issued handgun, striking Leroy Brown.
"After being shot, Leroy Brown was able to drive the Dodge Avenger across Moores Lane before striking a park bench and coming to a stop in Rogers Manor Park. Officers responded to that scene where they immediately rendered medical aid to Leroy Brown. He was transported by ambulance to the Christiana Medical Center where he was pronounced dead," Duffy said.
Colonel Vaughn M. Bond, New Castle County chief of police issued the following statement:
"This was a tragic situation that has undoubtedly altered the lives of all involved including the New Castle County police officer. As police officers, we enter this profession to make a positive difference in our community. Although we are fully aware that we may have to take a life to save another's or our own, it is not something any officer welcomes.
"We are grateful that the training our officer received was implemented during this intense and life threatening event. Without question, the officer's response to the actions of the suspect saved him from serious injury or death.
"We would like to thank the residents of New Castle County and the local media for their patience as we conduct our investigation. Incidents of this magnitude take time to thoroughly investigate. Our goal is to ensure that the information we release to the public is accurate and this occurs when we are permitted time to investigate the incident."