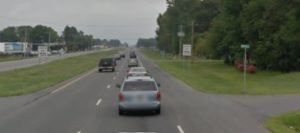 FELTON, DELAWARE (4/10/2017) A man walking onU.S. 13 along Felton's eastern border was struck and killed by a car early today, the Delaware State Police said.
The pedestrian fatality was reported at 12:54 a.m. in the northbound right lane just north of Memorial Avenue.
The man, later identified as John A. Miller, 50, of Felton, was struck by the right front bumper of a northbound 2000 Volkswagen Golf.
"The pedestrian was thrown onto the hood and into the windshield before rolling off the right side and onto the roadway. The Volkswagen was able to come to a controlled stop on the right shoulder immediately after the collision," Master Cpl. Gary Fournier said.
Miller was pronounced dead at the scene by Kent County paramedics.
Fournier said Miller was wearing dark clothing without anything reflective and wasn't carrying a flashlight. The area is unlit and there is no crosswalk.
The female driver of the car wasn't injured, Fournier said. Her name wasn't released.
Northbound U.S. 13 was closed in the area about three hours as police investigated.