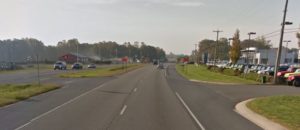 MILFORD, DELAWARE (3/23/2017) A 29-year-old Dover man was killed this morning when his motorcycle crashed into a tractor-trailer on Route 1 north of Milford, the Delaware State Police said.
The collision happened about 11:15 a.m. in front of the I.G. Burton car dealership at 605 Bay Road (Route 1).
Police said David E. Thompson was southbound on a 2005 Honda CBR motorcycle. The tractor-trailer, hauling cars, was northbound and making a left turn into the dealership parking lot.
Police said Thompson tried to brake but struck the front of the trailer portion of the car hauler in the middle of the roadway. The tractor-trailer continued west for 19 feet before coming to a controlled stop.
Thompson was pronounced dead at the scene. Police said he was wearing a helmet.
The driver of the tractor-trailer, Anthony L. Howard, 35, of Parkville, Maryland, was not injured.
Police said they are still investigating and asked any witnesses to call Master Cpl. B. Killen at 302-698-8451.
Tips also may be submitted anonymously through Delaware Crime Stoppers, which offers rewards, at 800-847-3333 or www.delaware.crimestoppersweb.com.
Southbound Route 1 was closed at Exit 79 (Thompsonville Road) as police investigated and the wreckage was cleared.