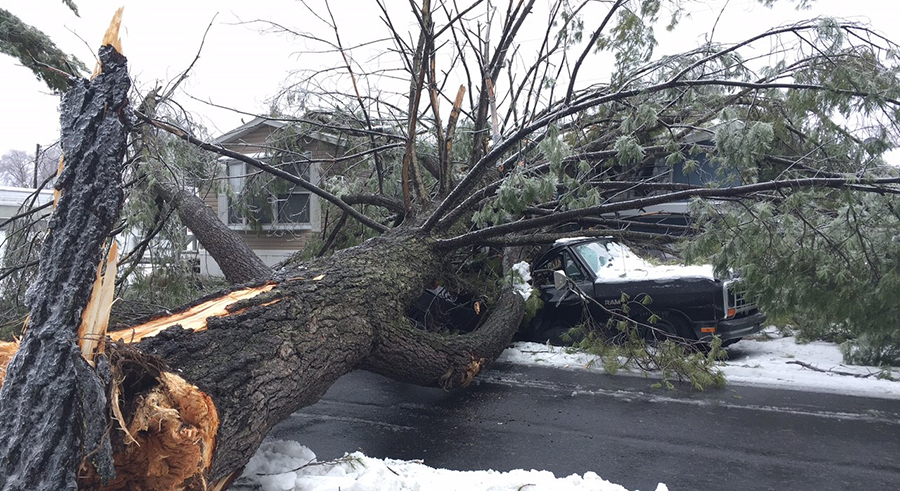 DELAWARE (3/14/2017) A nor'easter that brought snow, freezing rain and gusty winds to northern Delaware today left more than 32,000 Delmarva Power customers without electricity in New Castle County, and while many have had service restored others could be facing a two-day outage.
The company reported at 1:15 p.m. on its website that more than 45,000 customers were without service in Delaware and nearby Maryland.
By nightfall, more than more than 33,000 were still out overall, with 20,000 of those in New Castle County. The company says thousands may not have service restored until midday Thursday.
A 60 mph wind gust was measured at Dover Air Force Base, and a 64 mph gust was reported at a buoy off Lewes in the lower Delaware Bay, the National Weather Service said. A 59 mph gust was measured at Delaware Coastal Airport near Georgetown, and a 47 mph gust was reported at New Castle Airport.
At noon, a "Level 1 driving warning" issued earlier by Gov. John Carney was lifted, the governor's office announced.
Earlier today, officials announced state offices in New Castle County would be closed.
Wilmington and Newark officials also announced that city offices would be closed today.
The storm had dumped more than 4 inches of snow in northern New Castle County by 10:45 a.m., and less than half an inch in the Dover area. Heavy rain fell over much of the state, with more than 2 inches reported in southern New Castle and Kent counties, and more than 3 inches in parts of Sussex County.
In northern New Jersey, more than 17 inches of snow fell, the National Weather Service reported.
The latest forecast from the weather service calls for a mix of snow, freezing rain and sleet in northern Delaware this afternoon.
"Non-essential" employees who live or work in New Castle County are not to report during regular hours today, according to a statement from Gov. John Carney's office. "Essential" employees are to report as scheduled.
Carney's "Level 1 driving warning" for New Castle County called for drivers to avoid using the roadways during the storm unless there is a significant safety, health or business reason.
In Wilmington and Newark, only "essential" employees are to report to work today. Wilmington also postponed Tuesday recycling collections for areas west of Interstate 95 until Wednesday.
The University of Delaware is opening the Newark and other New Castle County campuses at noon.
All DART bus routes and statewide paratransit are operating normal schedules with possible delays.
SEPTA Newark line trains are operating on a Saturday severe storm schedule. DART Bus Routes 48, 59 and 62 will be adjusted to meet these train times.
Schools announce closings in advance of storm