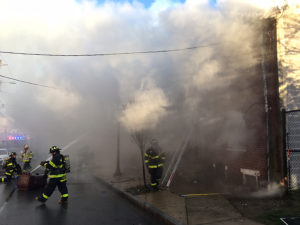 WILMINGTON, DELAWARE (3/6/2017) A fire that began in a vacant row home quickly spread to adjacent dwellings and displaced 12 residents, authorities said.
The blaze at 44 E. 22nd St. was reported at 4:40 p.m. Sunday.
Heavy flames where showing when Wilmington firefighters arrived.
The fire engulfed five adjacent properties, Deputy Fire Chief James R. Jobes said.
No injuries were reported.
The fire was placed under control at 6:55 p.m. by the incident commander, Battalion Chief Thomas Cunningham.
City building inspectors condemned all of the affected properties due to unsafe conditions.
The Red Cross was assisting the displaced residents.
Fire marshals were still attempting to determine how the fire started.