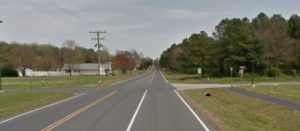 FELTON, DELAWARE (2/9/2017) Eleven students were injured this afternoon in a crash between a bus and car outside Lake Forest High School near Felton, the Delaware State Police said.
The collision happened about 2:30 p.m. as the school bus was leaving the parking lot in front of Lake Forest at 5407 Killens Pond Road.
The bus failed to come to a complete stop and continued onto the road into the path of an eastbound 1995 Jeep Wrangler, which struck the bus on the left side. Both vehicles came to a stop in the roadway.
The driver of the Jeep, a student at the high school, was taken by ambulance to a hospital for treatment and then released. Police said she had been wearing a seat belt.
The 75-year-old driver of the bus, a Harrington man, was not hurt. Police said he was wearing a seat belt.
The 31 Lake Forest students aboard the bus were evaluated by medical staff at the school and emergency crews. Ten of the students were taken to hospitals for treatment of injuries that police said were not life-threatening.
Police said they are still investigating the crash and no charges have been filed.
Killens Pond Road was closed for about an hour as police investigated.