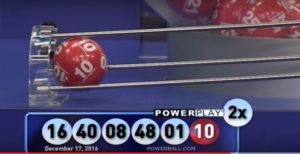 DOVER, DELAWARE (1/17/2017) A Pennsylvania couple has claimed the Powerball jackpot from Dec. 17, Delaware Lottery officials announced today.
The single winning ticket, worth $121.6 million in annuity value, was purchased at Selbyville Goose Creek, 38452 DuPont Blvd. (U.S. 113) in Selbyville.
The couple chose to remain anonymous, as allowed by state law. They selected the $72.1 million cash option for their prize.
The husband told lottery officials the winning numbers — 01, 08, 16, 40,48 and Powerball 10 — were the same he has played for years. He said he has played the Delaware Lottery since it began in 1975 and normally buys Powerball and Mega Millions tickets when the jackpots are large.
"I figured it only takes one ticket to win," said the man as quoted by lottery officials. "I went to the machine and scanned my ticket, and all these numbers came up. I have never seen that many zeroes in my life! Once reality set in, my first reaction was to cry. I walked out of the store in tears and returned to my wife who was waiting for me in the car."
"He came to the car and had tears on his face," said the woman. "I didn't know what to think at first, but then he said anxiously, 'We are millionaires!' I was so confused I didn't believe him and thought he was joking, so I made him double check the numbers on his phone, and we got the same results."
"This is just such a great experience, and we don't want to spend the money foolishly," said the woman. "I have strong feelings toward education and would want to make donations to schools or other charities in the future. We've also had our eyes on an RV. Since we travel a lot, it would be perfect for our family."
In addition, the man told Delaware Lottery officials it has always been a dream of his to own a hot rod, and he may get one.
This drawing represents the second-highest Delaware jackpot winner on a single ticket. The highest was in 2004, when a winner of the $214.7 million jackpot took the cash option of $116.9 million.
"Winning is not going to change me," said the woman. "I told him I don't want us to be different because of the money. We are very blessed to win."
The couple claimed their prize (less 25 percent withheld for federal tax) at Delaware Lottery headquarters in Dover on Friday.
Powerball $121 million jackpot ticket sold in Selbyville