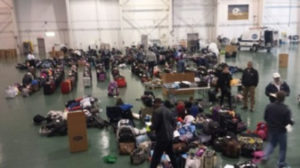 DOVER, DELAWARE (1/12/2017) A husband and wife from Delaware were among the shooting victims at an airport in Florida last week.
Authorities on Wednesday said Mary Louise Amzibel, 69, was one of five people killed in the attack Friday at Fort Lauderdale-Hollywood International Airport.
Her husband, Edward, was reportedly in a coma at a Florida hospital.
Their home is in The Meadows of Dover community just north of Dover city limits, according to Kent County online records.
Both are reportedly natives of Ashtabula, Ohio, but had moved to Delaware many years ago.
They were on their way to a Panama Canal cruise when they were shot.
Broward County, Florida, officials also released the names of the other four people killed in the rampage:
Shirley Timmons, 70, of Senecaville, Ohio
Michael John Oehme, 57, of Council Bluffs, Iowa
Olga M. Woltering, 84, of Marietta, Georgia
Terry Michael Andres, 62, of Virginia Beach, Virginia
Dozens of people were injured in the attack and three remained hospitalized on Wednesday.
Esteban Santiago, 26, of Anchorage, Alaska, has been held without bail on federal charges since his arrest following the shooting.