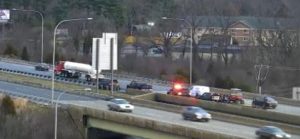 NEW CASTLE, DELAWARE (1/12/2017) A crash is jamming northbound Route 1 in the Bear-New Castle area.
DelDOT reported the crash about 7 a.m. was blocking the left lane at the U.S. 40 overpass.
Northbound Route 1 traffic was crawling at 7:25 a.m. beginning just north of Route 72.
Delaware State Police troopers are investigating the crash.