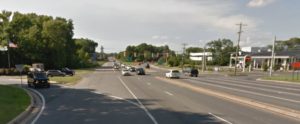 NEW CASTLE, DELAWARE (1/1/2017) A motorcyclist was injured in a crash Saturday near New Castle, authorities said.
The crash happened about 11:30 a.m. at West Basin Road (Route 141) and Commons Boulevard (Route 37).
A paramedic who was first on the scene found a 41-year-old man had been ejected from the bike after losing control. No other vehicles were involved, paramedics Cpl. David J. McKinney Jr. said.
The man was not wearing a helmet.
He was taken by Wilmington Manor Fire Company ambulance to Christiana Hospital in Stanton in stable condition.
The crash is under investigation by Delaware State Police.