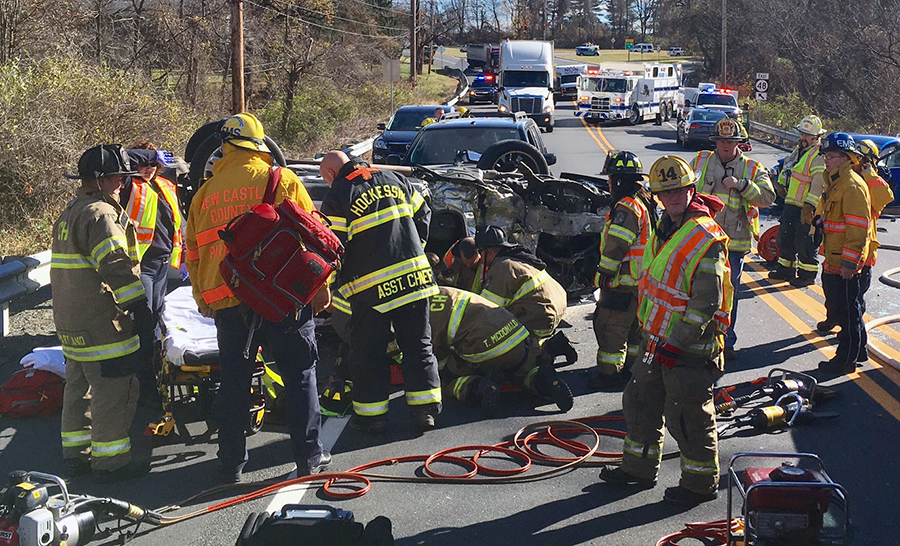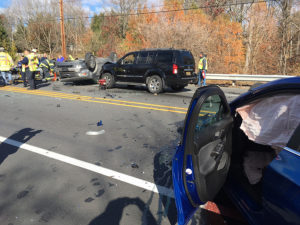 HOCKESSIN, DELAWARE (11/21/2016) Two people were injured this morning in a crash involving three vehicles and a rollover on Lancaster Pike (Route 41), authorities said.
The crash happened about 11:30 a.m. near Sanford School.
Delaware State Police said a southbound 2010 Chevrolet Cruze crossed the center line and struck the front left side of a northbound 2010 Ford Edge SUV, which rolled onto its roof.
The Edge was then struck on the passenger side door by a northbound 2011 Nissan Pathfinder SUV.
James J. Conway, 28, of Pennsylvania, who was driving the Cruze, was treated by New Castle County paramedics, then taken by ambulance to Christiana Hospital in Stanton. Police said his injuries were not life-threatening.
The driver of the Edge, Sonseeahray Dunn, 59, of Pennsylvania, was trapped in her overturned car about 30 minutes until extricated by firefighters. She was treated by paramedics and taken to Christiana Hospital. Police said her injuries were not life-threatening.
Police said both were wearing seat belts.
The driver of the Pathfinder, Megan Fitzpatrick, 47, of Wilmington, was not injured.
Hockessin and Cranston Heights firefighters responded.
Lancaster Pike was closed about an hour in both directions as police investigated.
Pa. woman killed in fiery head-on Hockessin crash