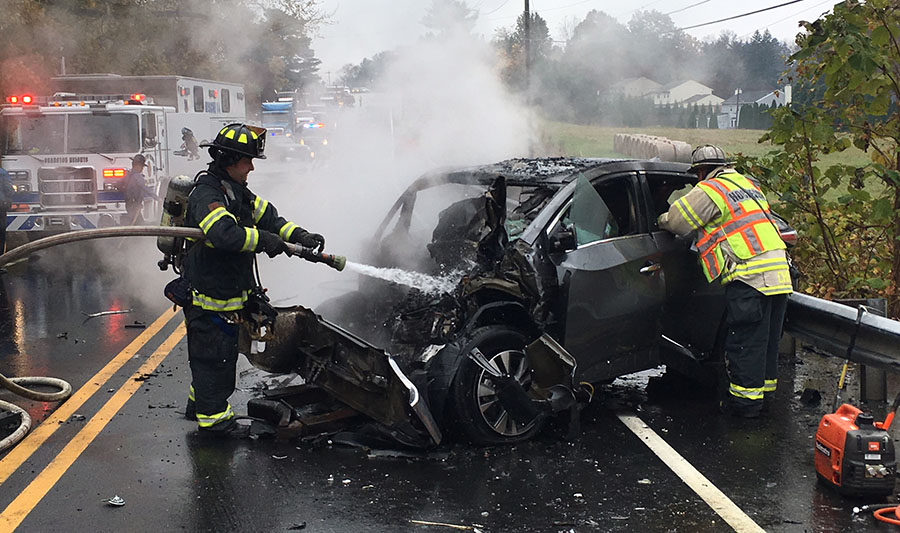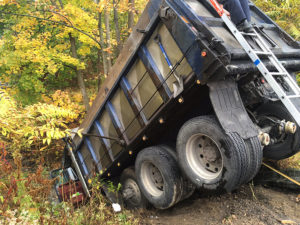 UPDATED STORY: Police identify woman killed in Hockessin crash
HOCKESSIN, DELAWARE (11/9/2016) A Pennsylvania woman died and a man was injured in a fiery head-on crash on Lancaster Pike (Route 48) in Hockessin this morning.
The crash was reported at 10:41 a.m. a quarter mile west of Wilmington Road and involved a 1997 Peterbilt dump truck and a 2016 Nissan Murano SUV, the Delaware State Police said.
Police said the SUV was westbound and for unknown reason crossed the center line and struck the front of the eastbound truck.
The SUV came to rest in the road and burst into flames. The truck crossed the westbound lane, went through a guard rail and down an embankment.
The driver of the SUV, a 41-year-old woman from West Grove, was pronounced dead at the scene. Police are withholding her name pending notification of next of kin.
Police said they didn't know if she was wearing a seat belt, nor if alcohol or drug use on her part were factors in the crash.
The driver of the truck, identified as Shawn Spinella, 37, of Conestoga, Pennsylvania, was treated by New Castle County paramedics and taken by ambulance to Christiana Hospital in Stanton, police said. His injuries were described as minor. He wasn't wearing a seat belt.
Police said they are still investigating but no charges will be filed.
Lancaster Pike was closed for about five hours as a result of the crash.